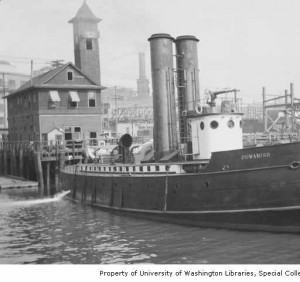 The Seattle Fireboat Duwamish, built in 1909, is the second oldest fireboat in the United States.  A National Historic Landmark, and a City of Seattle Landmark, it is moored at the Historic Ships Wharf at South Lake Union.   Dedicated to the preservation and interpretation of Seattle's firefighting history and the maritime industry, the Seattle Fireboat Duwamish is specifically interested in the education and development of future Mariners.  The Duwamish is a not-for-profit, 501c3
Welcome aboard!
Statistical Information:
Build date/launched July 3, 1909
Designed by Eugene L McAllister
Built at Richmond Beach Shipbuilding Co. aka, Puget Sound Shipbuilding Co.
Cost in 1909 was $126,400
Length in 1909 – 1948, 113 feet (as built with "ram bow")
Length after 1949, 122.8 feet (bow was reconfigured to conventional)
Beam is 28 feet, Draft 9 feet 6inches
Tonnage is Gross, 322; short 292; Net 219
Maximum speed is 10.5 knots (steam), 14 knots (diesel burns 55 – 60 gph)
Rebuilt in 1949
Rebuild shipyard was Commercial Ship Repair of Winslow
Cost of rebuild in 1949 was $149,257
The Duwamish has two propellers, 82 inches in diameter with four blades
Originally built in 1909 as a steam ship, and rebuilt in 1949 as a diesel electric ship powered by two Cooper Bessemer Supercharged 900 HP engines powering two 1945 General Electric DC 765 HP electric motors, with two Detroit Diesel 671 auxiliary engines.
The first fire the Duwamish fought  was on May 20, 1910 for the Independent Asphalt Co.
The last fire the Duwamish fought was on West Marginal Way in September 8, 1984.
Retired October 6, 1984
Financial support provided, in part, by 4Culture and
The Duwamish Tribe.